UCLA Today has highlighted Professor Michael Jung and fellow researchers who have led efforts to cure prostate cancer.
UCLA Today: The awarding of $11.6 million in federal funding from the National Cancer Institute (NCI) to enable a multidisciplinary group of UCLA scientists to continue their important prostate cancer research is just the latest in a string of "big hits" for the team.
"To get something like this funded now is really something," said Dr. Jean deKernion, professor emeritus who pioneered prostate cancer research at UCLA two decades ago and was one of the first principal investigators when UCLA's Specialized Program of Research Excellence (SPORE) site in prostate cancer started in 2001.
This award marks the third round of NCI funding for the SPORE group, which is comprised of UCLA scientists, clinicians, oncologists, radiologists, pathologists and imaging specialists. Together, they've turned UCLA into one of the nation's preeminent research engines for advances in the prevention, diagnosis and treatment of prostate cancer and made a life-saving difference in the lives of countless patients and their families.
"This renewal of the UCLA prostate SPORE is indicative of the world-class research we have on this campus," said Dr. James Economou, UCLA vice chancellor for research and professor of microbiology, immunology and molecular genetics; molecular and medical pharmacology; and surgical oncology.
Roughly one in six men will be diagnosed with prostate cancer, making it the second most common cancer in men. It is estimated that 238,000 new cases of prostate cancer will be diagnosed in the United States this year, and about 30,000 men will die from the disease.
The SPORE program has been key in advancing preventative care and developing diagnostic tools and therapies.
"UCLA's world-class research in prostate cancer, joined with over 15 years of faculty entrepreneurial initiative and technology transfer efforts, are bringing life-saving technology to the clinic and the marketplace," said Emily Loughran, director of licensing in UCLA's Office of Intellectual Property and Industry Sponsored Research. "It is truly gratifying to see a lot of hard work come to fruition."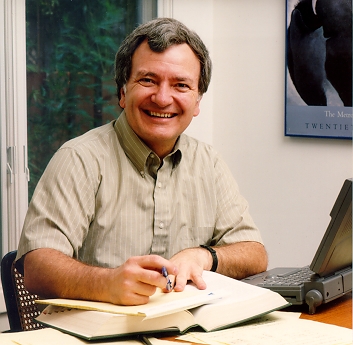 Dr. Michael Jung has been behind the creation of two valuable
compounds that aid in the fight against prostate cancer.
From lab to clinic
In June, Johnson & Johnson, a manufacturer of multinational medical devices and pharmaceutical and consumer packaged goods, struck a $1 billion deal with Aragon Pharmaceuticals Inc., a UCLA start-up and leader in developing drugs that fight hormone-driven cancers, to acquire the rights to a UCLA-developed androgen receptor antagonist program. This program includes ARN-509, a second-generation androgen receptor-signaling inhibitor designed and synthesized in 2006 by a UCLA team headed by former SPORE investigator Dr. Charles Sawyers, who worked at the Jonsson Comprehensive Cancer Center for nearly 18 years, and Dr. Michael Jung, a professor of chemistry and biochemistry. This compound is currently being evaluated in multiple Phase II trials in men with castration-resistant prostate cancer. In addition, the UCLA-created prostate cancer drug Xtandi, a new anti-androgen treatment that can prolong life for men who have failed hormone and chemotherapies, received approval from the U.S. Food and Drug Administration in 2012. Xtandi, which was also developed by Sawyers and Jung and later licensed to California's Medivation Inc., inhibits the androgen receptor (AR), the engine of prostate cancer progression, at three distinct points in the signaling pathway. In its Phase III clinical study, Xtandi increased median survival by 4.8 months in men with the chemotherapy-resistant disease, providing a 37 percent reduction in the risk of death compared to placebo. "These two drugs are effective in the large number of patients with advanced prostate cancer who were previously not treatable," said deKernion, who continues to practice medicine at the Frank Clark Urology Center at the Ronald Reagan UCLA Medical Center. "That's quite an accomplishment." To read the rest of this article by Rebecca Kendall, please visit UCLA Today.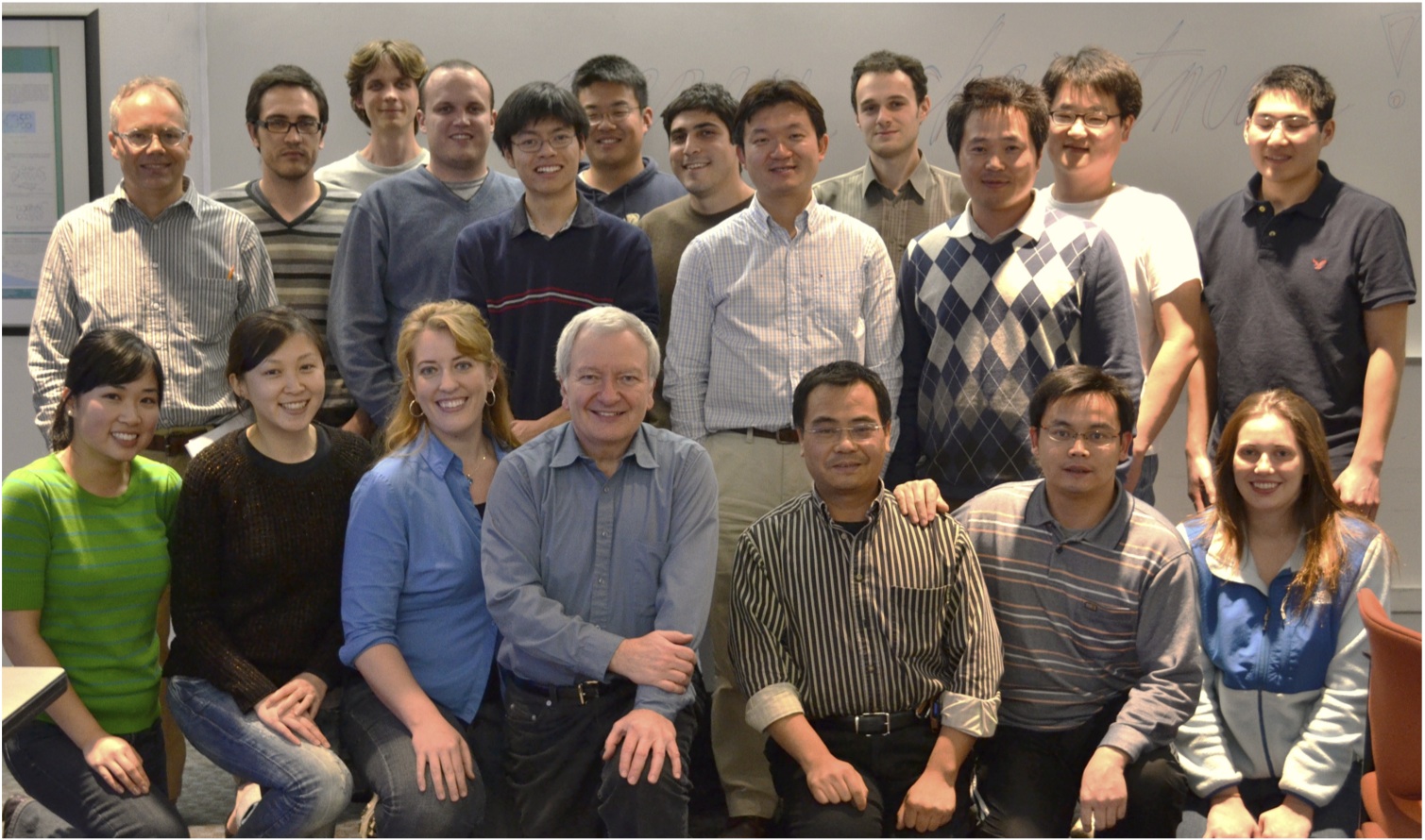 Michael Jung (Bottom/Center) with his research group Short Biography
Mike Jung received his Bachelor of Arts in 1969 from Rice University, doing research with Richard Turner, and then his PhD in 1973 from Columbia, where he worked with Gilbert Stork. After a one-year NATO postdoctoral fellowship with Albert Eschenmoser at the ETH in Zurich, he joined the faculty at UCLA in 1974. He has risen through the ranks at UCLA and is now a Distinguished Professor of Chemistry. He has served as a reviewer of proposals for various organizations, e.g., NSF, PRF, NIH Medicinal Chemistry Study Section, Research Corporation and others. He is on the Scientific Advisory Boards of several pharmaceutical firms and consults currently for more than 20 industrial laboratories in both the biotech and big pharma settings. Professor Jung is an authority on synthetic organic and medicinal chemistry and has more than 25 patents arising from both his consulting activities and his own research. His current interests include the easy preparation of hindered systems via both Diels-Alder reactions using a new mixed Lewis acid catalyst and via an unusual formal [3,3]-sigmatropic rearrangement. He has also pioneered the use of epoxide rearrangements in synthesis (e.g., the non-aldol aldol) and has investigated new types of gem-disubstituent effects in synthesis. He has published more than 250 articles in refereed journals and has given over 470 lectures on his research, including lectures in German and French. Finally one of his recent compounds is in Phase 1/2a clinical trials for the treatment of hormone refractory prostate cancer.